Tattooed Royalty – "Queer Stories of a Queer Craze"
Rare, Original article from 1898!
This Is Not A Reproduction.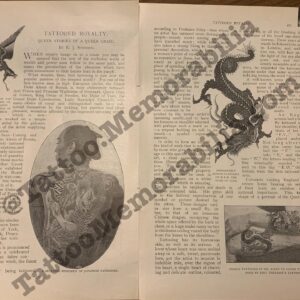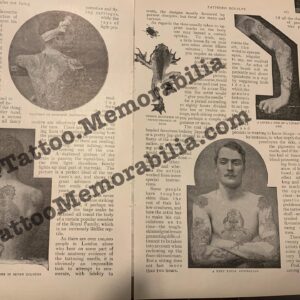 Written by R J Stephen in 1898 for a London magazine, the story is about tattooed royalty, Kings, Queens, Princes and Princesses from Europe and the tattoo designs they chose. References to Sutherland Macdonald and Tattoo artist Prof. Reilly of London. Many photographic tattoo references to the Royal families of Europe.
The last paragraph states "There are about 20 tattoo artists in London, some good, some very bad, some very indifferent. Prof. Riley is among the best."
For Sale!
* 134 Years Old
* Fine Condition
* Extremely Rare
* 4 Complete Pages
€250.-
Absolutely amazing piece of tattooing history, would look great framed.
#historicaltattoo #tattoohistory #legendarytattooartist #vintagetattoo #tattoomuseum #ancienttattoo #tattooculture #traditionaltattoo #japanesetattoo #spiderwebtattoo #dragontattoo #kingthebaw #londontattooartist #coveruptattooartist #raretattoo #profreilly #tattoostuff #tattoomemorabilia #tattoocollectors #antiquetattoo #antiquetattooflash #vintagetattooflash