Tattoo Memorabilia Appraiser
Professional Appraisals Since 1983
Many of our clients have often wondered "How much is this old tattooing equipment worth, how much is the value?"
Usually these tattoo related items are found in auctions, sometimes inherited from a family member or found in a flea market. One customer found her uncle's old tattoo case which was from the early 1900's in nearly mint condition.
Valued at over $200'000 this Tattoo traveling kit is a rare find.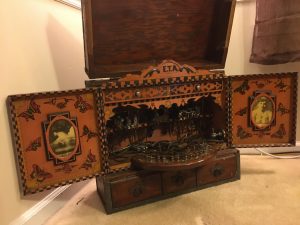 Professional Appraiser for items related to Tattooing and Tattoos.
Appraisals & Valuations
Antique Tattooing Equipment
Vintage Tattoo Artist Machines
Vintage Tattoo Artwork
Tattoo Flash
Acetate Stencils & Original Transfers
Tattoo Colors
Tattoo Needles
Tattoo Artist Business Cards
Tattoo Studio Business Cards
Tattoo Machine Tubes
Family Heirlooms, Inheritance, Lost & Found
Unknown Artifacts or Items of Interest
Newspaper Articles, Books, Magazines
Tattoo Club Membership Certificates
Vintage Tattoo Photographs & Negatives
Tattoo Convention Posters
Tattoo Postcards
Do you or someone you know own the above items? The items could be one of a kind and unique worth thousands of dollars or sold to hundreds meaning sometimes they are almost worthless.
Contact us today and find out more about your tattoo related objects and interesting Old Tattooing Equipment!