Lyle Tuttle Memorabilia – Rare 1970 Rolling Stone Magazine Featuring Lyle Tuttle on Front Cover!
Just added to the store are 4 four very rare Rolling Stone Magazines featuring Lyle Tuttle on the front cover. 3 full pages of Lyle including 7 seven photographs.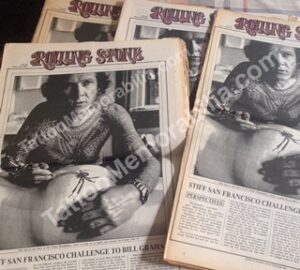 52 years old, these copies are extremely hard to find and their condition varies widely from Poor to VG+. Lyle Tuttle was an American tattoo artist who during the late 1960´s & 1970´s tattooed many rock stars of the time and became quit famous himself. If you collect Tattoo Memorabilia, then this is a must have in any collection.
Follow this link to view all Lyle Tuttle Memorabilia For Sale at TattooMemorabilia.com