Bob Roberts 1946 – 2022
Legendary Tattoo Artist
"Rock of Ages" Original Artwork
Auction
Entitled "Rock of Ages"(2008) this original artwork by Bob Roberts was created at Spotlight Tattoo Studio in Los Angeles, California.

This American Traditional Tattoo Design artwork was included in the Yellowman clothing line by the late Peter Mui (1953 – 2009)
This tattoo themed artwork was used to produce long sleeve shirts that were printed in both Color and Sepia. * see photos
Size: 30″ x 22″ 76.2cm x 59cm
Artist: Bob Roberts
Signed: "B R"
Year: 2008
Origin: Los Angeles, California USA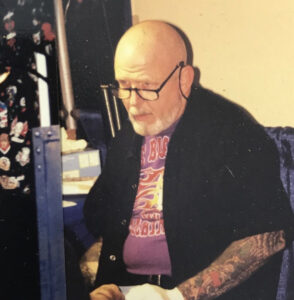 Bob Roberts is a tattoo artist from Los Angeles. Born in 1946, Bob started tattooing in 1973 at the Pike and studied under Bob Shaw and Col. Bill Todd for 3 years. Then he worked under Cliff Raven for a couple years. After that he moved to San Francisco and worked beneath Ed Hardy for 3 years. He opened his first shop in New York City called Spotlight Tattoo but eventually moved back to Los Angeles and opened a shop there. He is still at the same location today.
Links;