🔥Tattoo Memorabilia Auction🔥
Original Business Card from Tattoo Legend Gus Wagner
Follow Tattoo Memorabilia For Sale #️⃣
Tattoo.Memorabilia
🔜Follow & Share 👍 https://www.instagram.com/p/CZmm5pxLosw/?utm_medium=copy_link
This is an original business card from Gus Wagner.
Excellent condition, see attached photos.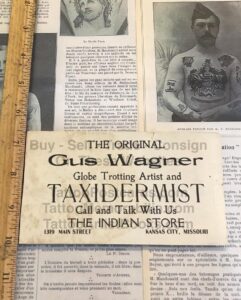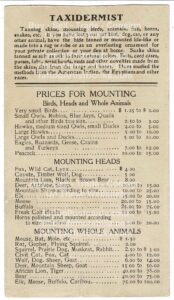 Credit to Southstreet Seaport Museum NYC;
The Original Gus Wagner: The Maritime Roots of Modern Tattoo explores Augustus "Gus" Wagner's (American, 1872-1941) early life as a merchant seaman and tattoo artist who traveled the world from 1898-1902, and his return to the United States as a professional tattooist and tattooed man.
Gus Wagner was born in 1872 in Marietta, Ohio, a trading and boat building town on the Ohio River. At age twelve he saw his first heavily tattooed man, "Captain Costentenus the Greek Albanian," in a traveling show. In his 20's, he set out as an itinerant salesman and laborer. In 1897 he boarded the cargo steamer Bellona at Newport News, Virginia, thus embarking on a four-year career as a merchant seaman. By traveling around the world, Gus Wagner got to know many seaports: Vera Cruz, London, Cape Town, Sydney, Auckland, Honolulu, New York, San Francisco, and others. It was during this time that he discovered the art of tattooing.
By 1901 Gus reportedly had 264 tattoos of his own, (and over 800 by 1908) allowing him to promote himself as "the most artistically marked up man in America."
#guswagner #tattooartist
#antiquetattoo #vintagetattoo #tattoomemorabilia #tattoomemorabiliacollectors #globetrotter #tattoolegend #tattoobusinesscard #legendarytattooartist #tattoohistory #historicaltattoo #collectorsitem #tattoocollector #tattooing #tattooist